The Southeast Association of Institutional Research (SAIR) conference was held in Greenville, SC from September 29 – October 1, 2019. The SAIR Conference is an excellent forum for the dissemination of information and interchange of ideas on problems of common interest in the field of institutional research. The theme of the conference was "Tools for Transformation," and, naturally, data analytics was a hot topic.
The Keynote Speaker, Christine Keller, Executive Director and CEO, Association for Institutional Research, presented on the recently issued Joint Statement between AIR, EDUCAUSE, and NACUBO: "Analytics Can Save Higher Education, Really!" These three organizations stand together with a strong sense of urgency to reaffirm higher education's commitment to the use of data and analytics to make better strategic decisions. The key points of the joint statement are: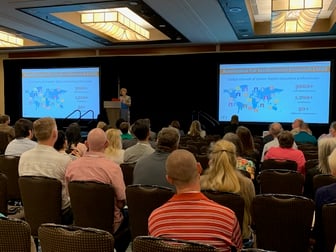 Go Big – Make an Institutional Commitment to Analytics
Analytics is a Team Sport – Build Your Dream Team
Prepare for Some Detours on the Road to Success
Invest in What You Can – You Can't Afford Not To!
Analytics has Real Impact on Real People – Avoid the Pitfalls
The Time to Act is NOW!
Like never-before, institutions of Higher Education are under scrutiny by legislatures and the general public. Beleaguered by challenges such as stagnant completion rates, increasing student debt, declining enrollments, changing student profiles, concerns over affordability, access, and value, institutions need data to help inform priorities and strategies. To make data analytics work, campuses need the following competencies: data management, data wrangling, data analysis, data literacy, project management, storytelling, contextualization, and knowing what questions to ask. Even though many industries, not just higher education, are looking to data to improve performance, Christine was careful to mention that we need to keep in mind important principles of the ethical use of data. AIR will release a statement on the Ethical Use of Data this fall.
The question of ethics in Data Analytics was followed up by a comprehensive presentation on the topic by Denise Nadasen, Director of Research and Data Policy, APLU. Denise provided guidelines for anyone interested in the topic and mentioned the New America publication.
Denise, pictured to the right, shared some helpful questions for any practitioner to ask themselves including: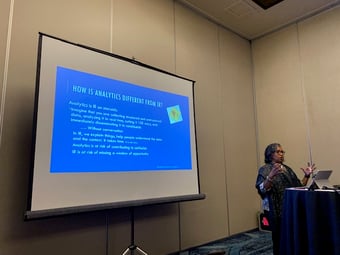 Why was the data collected and is it being used for its intended purpose?
Are students aware and willing to share their data for this purpose? Do they have a choice?
Are the data used in a reasonable manner?
Are the data appropriate, authoritative, and complete?
Who owns the data? Who is responsible for the data?
Who has access?
How equitable are the results?
What are the consequences of the analysis?
Can mistakes and unintended consequences be repaired?
The conference was rounded out with an inspirational speech from Tom Danielson, Former Tour de France Cyclist, DEO & Funder, Cinch Cycling, Inc. With a compelling analogy between what he achieved to become a professional cyclist and what we need to compel change in any industry, he delivered his 6-pronged approach to go from where you are right now to where you want to be. Everyone is chasing the outcomes, however, the inputs and processes are more important. Change needs to come from inside and be authentic, we cannot emulate another.
Change comes from NEED- Create the fire!
Set the FOUNDATION- We must change something and assess the impact. Change comes from commitment, we must anticipate obstacles, discomfort, and push-back—whether from ourselves or others. To combat that, we must take on a "Water Mindset" and flow with the new process.
Create the OPPORTUNITY- DREAM! If you are trying to change without a target, you will never hit it. Know what you are aiming for and commit!
MOMENTUM is everything: You have to commit and do it consistently, progress is not pass/fail, it is learning.
ARRIVAL: The breakthrough! Ultimately, there will be a breakthrough and we will discover what variables worked, and then we need to double down and repeat what worked, the DREAM has become a reality, but be cautious and remember, breakthrough results guide, they do not define—we still need to be open to change and refining the process.
Define with ACTION: Once we know, we need to perform.
Transformation requires vision, grit, constant learning, collaboration, and ACTION!