SACRAO 2020 was a wonderful opportunity to discuss enrollment topics with colleagues from across the southern region of the country.
Of particular interest from an analytics perspective was the presentation by David Burge, Vice President of Enrollment Management at George Mason University (GMU), called, "Institution-Wide Analytics: Connecting Enrollment Management and Finance." It was a case-study presentation of how GMU is partnering with HelioCampus to utilize data in support of GMU's strategic growth plan. You can read a session summary below:
In today's challenging times in higher education, many institutions are embracing analytic solutions to help them unravel enrollment, persistence, and retention challenges.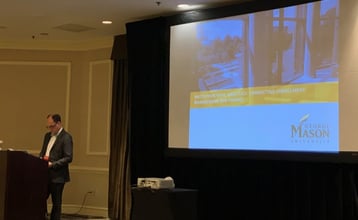 Naturally, every institution's focus for data analytics needs to tie to its mission, culture, and future goals. George Mason University occupies a unique location in the state. It has four locations, 38,000 students from 130 countries/50 states. GMU offers 82 undergraduate programs, 88 master's, 39 doctoral, and is a Carnegie Research 1 institution. GMU also has unique student demographics, 68% undergrad, 69% full-time, 81% in-state, ½ of undergraduate enter as transfers. GMU is also a minority-majority institution and 1/3 are Pell students. George Mason has accounted for 64.1 % of the statewide enrollment growth in VA public four-year institutions since 2010. Analytics use and interpretation has to account for the institution's aspiration - which is to grow.
As you can see, GMU has experienced tremendous growth in last 10 years. They made great advancements in analytics across IT & IR but still needed to bridge the gap across additional functions and business units. Enrollment Management, IR, IT and Finance were siloed while, in actuality, the fates of all these departments and the services they provide to the institution are intertwined. What classes do I need to offer in the future to accommodate our 'holistic' student model? How can we come together around a common sense of data governance? What is our common set and common definition of data? And is it available for consumption by all departments? GMU created a data governance model that allows all individuals, and all departments, to believe that data belongs to the institution as a strategic asset that allows the institution to meet its goals. GMU began to prioritize questions across the student life cycle.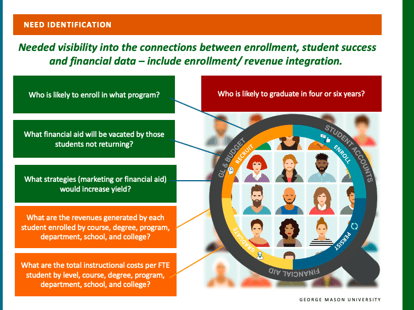 One of GMU's questions was, "How do we grow without having the quality suffer?" This would require strategic investment and the institution made a decision to use analytics as a tool.
Questions they asked themselves:
How are scholarships from the colleges impacting yield?
Is enrollment increasing where regional recruiters have been placed?
How many students have paid an enrollment deposit and are full pay?
Are we enrolling the same number of Pell eligible students as the previous AY?
Before selecting a partner, GMU set some selection requirements. They were interested in someone who would:
Provide solutions that will operate cooperatively with Mason's current environment and also build upon Mason business rules, processes, and practices,
Rapidly develop short-term analytic capabilities to a) Bridge the gap between enrollment student success and financial data, b) develop predictive and prescriptive modeling,
Through consultation, develop a long-term analytical roadmap.
Ultimately HelioCampus's consultative approach informed the evolution of their vision to build a foundational analytics capability. GMU is now able to harness their data to inform strategic plans for growth. To read more, click here.
Another great session was "How Demographics are Shifting the Way We Think about Recruitment and Enrollment," presented by Ronnie Chalmers, Director of Strategic Initiatives, North Carolina State University and Joe Montgomery, Vice President for Enrollment Management and Student Success at Tuskegee University.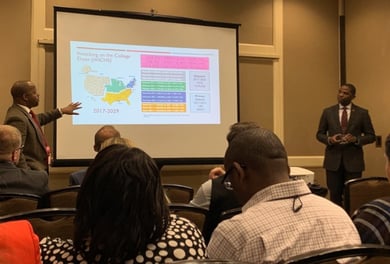 High school graduation projections have long detailed the coming "demographic cliff" in the 2025 – 2029 timeframe – a national decrease of nearly 10%. This will impact different institutions in different ways, and now is the time for enrollment leaders to more fully understand these changes and be prepared to navigate them. This session explored the data from the Western Interstate Commission for Higher Education (WICHE) as well as new, more detailed higher education demand projections by Nathan D. Grawe from his recent book, "Demographics and the Demand for Higher Education," to help your institution plan for these changes.
Both North Carolina State University and Tuskegee University have begun to prepare for the upcoming demographic cliff, with strategies such as hiring staff to mirror the new demographics, including a presentation of support systems prior to enrollment and planning for international recruiting, to name a few. Each institution must determine what population they want to recruit based upon their location and mission, and plan accordingly.
Finally, I was also able to attend "Strategic Enrollment Management," presented by The University of Kentucky. They shared the challenges and successes in building their enrollment. Scott McDonald, Dean of Undergraduate Admission, facilitated a robust discussion around the hot topics of enrollment management. Currently, many schools estimate that there will be a gap between revenues/appropriations and the cost of institutional needs over the next five years. Schools can no longer rely on past assumptions, such as the university brand, new facilities, and academic programs will be sufficient to enable continuing market share, that the price disadvantage can be overcome with institutional aid, and current enrollment practices will continue to be effective.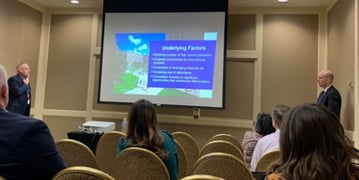 Additional market factors underscore the need to evaluate and revise enrollment strategies including:
Declining number of high school students;
Uncertain environment for international students;
Competition in leveraging financial aid;
Increasing cost of attendance;
Competitors focused on significant opportunities that underscore differentiation.
There are a long list of issues to be considered including: Academic Quality, Retention and Graduation, Class Composition, Residency, Diversity, Transfer students, International students, First-time Freshmen, Signature programs – how do we market those more effectively?, Analysis of Markets, Unmet Financial need, Net Tuition Revenue/Discount Rate, Housing Occupancy, Capacity by College and Major, Understand the impact of unmet need on retention, Continuous Territory Evaluation, Constantly evaluate ROI & Outcomes, Change the Institutional Mindset around data-sharing, Balance your institutional mission vs need to change.
This session underscored the need for new ideas, and the importance of analytics strategies in a changing landscape.
Throughout the conference, the theme of how to prepare for the demographic changes that are coming, and how analytics can help in the face of uncertainty was pervasive. I look forward to attending next year and learning what progress has been made and how institutions are continuing to innovate and tackle all the challenges that come their way.