The Mid-America Association for Institutional Research (MidAIR) annual conference took place earlier this month in Columbia, one of Missouri's fastest growing cities. The theme of the conference was IR in Action. A week prior to this, the Association for Institutional Research Upper Midwest (AIRUM) conference took place in Minneapolis, MN. Institutional Research professionals from across the Midwest region were afforded many engaging conversations surrounding the state of IR in the current higher educational environment, strategies in assessment, efficiency, policy, and equity.
The emphasis on institutional research in action was reflected in the conversations taking place in sessions and at the various social events. Sessions focused on the continued use of data to inform decision making, statistics, data visualization and more. Further, as we continue to see in the IR environment, a continual stream of research, papers, presentations, and sessions addressing various topics in analytics. Using analytics and data to inform decision making in higher education has become the new normal.
In my discussion of analytics in higher education, I introduced the idea of building a team and discussed this idea relevant to a book I read recently by Shane Snow, titled Dream Teams: Working Together Without Falling Apart. As I read the book, I could not help but connect Snow's sentiments to the joint statement released by NACUBO, AIR, and EDUCAUSE. These groups suggest that we must build a dream team in our analytics agenda in higher education. Participants at each session discussed challenges in creating a dream team.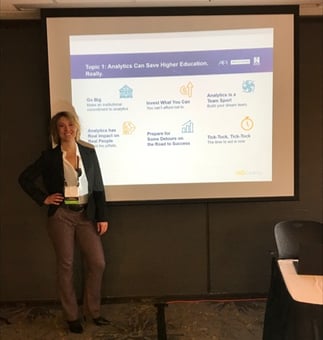 As we continue to work in the new normal of using data to inform decision making, it is imperative that IR interface with IT, as they are a critical member of the dream team. There is a need for coordination and cooperation with IT professionals, and the demand for their expertise is only going to increase. Ultimately, when IR & IT come together, they become more than the sum of their parts and can see farther together.
One particular organization that has brought these two groups together to form a dream team is the Missouri Department of Higher Education and Workforce Development. The Department of Higher Education joined forces with Workforce Development, making their ability to share data more seamless. As a result, they recently embarked on a Missouri Equity Project to identify where gaps exist in the education measures and the extent of those differences. The Department of Higher Education and Workforce Development, under the leadership of Zora Mulligan, also recently held an equity summit in order to further explore the synergies that can be gained from these combined resources.
One of the brilliant services that HelioCampus offers is the ability to combine multiple sources of data in one place, creating a single source of truth. We partner with you to provide an analytics solution that allows you better access to your data, enabling you to measure your strategic planning KPIs and more. If you have any questions on how we can partner with your institution, don't hesitate to reach out.