I recently had the opportunity to attend the HEDW Conference in Ann Arbor, Michigan. The conference was a real testament to how Colleges and Universities are viewing and using data to make more informed decisions. Whether it be for enrollment, retention, student success or advancement, they understand how to best harness the power of data for institutional improvement.
Predictive analytics was a popular topic at this year's conference, however, as Chris Wiggins, opening keynote speaker from The New York Times pointed out, it begins with understanding the simple descriptive characteristics of your population. As an Associate Professor of Applied Mathematics at Columbia and Chief Data Scientist at the New York Times, Chris brings his unique perspective when discussing either the subscriber base of the New York Times or your student population, there is an immense amount of intelligence that can be gathered from these constituents. Many of us think of the analytics continuum as moving from Descriptive –> Diagnostic –> Predictive –> Prescriptive. Chris helps simplify this to Hindsight –> Insight –> Foresight.

Chris left us with several valuable takeaways, but there were two that specifically resonated with me. The first was data specific and the other, though certainly applicable in any project scenario, seemed more of a general life principle. First, "If you torture the data, it will confess to anything;" a message that reminds us not to lose focus on the questions we are trying to answer. Sometimes the data supports our hypotheses and… sometimes it doesn't. Next, "If someone wants something, they should be willing to pay for it with 15 minutes per week of their time. If they aren't, then it isn't worth doing;" certainly a great way to help understand other people's priorities, as well as set your own.

My HelioCampus colleague, Rob Mitchell, had the opportunity to present a session with one of our valued partners, Ithaca College on the topic: "How to Expand SIS Data with Engagement and Learning Management." As many private institutions look to better understand how student curricular and co-curricular activities impact the student experience and, further, how student experience impacts things like persistence and retention, Ithaca is on the forefront of using data to understand these relationships. But as Ithaca's Information Systems and Analytics Manager, Rob Snyder, points out, the road has not been without bumps.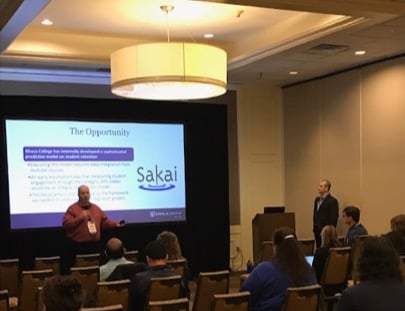 Their session was designed around the idea that when you move through the planning and execution phases for a data integration and warehousing project aimed at predictive analytics, you should strive for perfection and, with the understanding that real-world difficulties will arise, be comfortable with the achievable. (This is another generalizable theme from the conference and was touched on across many sessions.) Rob S. and Rob M. focused on showing that project success can be measured in the achievement of relative expectations, rather than the absolute accuracy of the data. While 100% accuracy of data during integration was expected, specific to the predictive analytical needs, data accuracy of 80% is often enough to provide actionable results. In their situation 90% was achieved.
This entire process is underlaid by the idea that people from across the institution need to be included in the planning process, and be made aware of the project goals, from the beginning. The execution of predictive analytics is often left to Institutional Research or Business Intelligence groups, but they are more often than not excluded in the initial discussions around the systems chosen to track and store that information. A key takeaway was the need to include these groups early on and gather input from as many end users as possible. This will help in both determining project level success and in the development along the way. Often subject matter experts (SMEs) are scattered throughout the institution with knowledge specific to their area. Their knowledge can save countless hours of chasing a data "issue" that turns out to be the result of a well developed (and otherwise unknown) process that was put into place years back to better serve the students.
Another year at HEDW has shown us why it is continually one of the best conferences for those of us in higher education who care about using analytics to help students. Institutions have become very savvy in the collection of their institutional data and we look forward to next year at HEDW2020 at Weber State University in Ogden, Utah where we can continue the conversations and learn from everyone on how analytics are being used at their institutions.