From 1987 to 2017, tuition at public universities in the U.S. increased by a staggering 213 percent – and that's after adjusting for inflation.1 At a time when higher education costs are rising exponentially and people are debating the ROI from a degree, there is increased pressure for college and university presidents to be multi-dimensional leaders who can lead institutions safely into the future. Today, presidents are expected to have expertise in multiple areas, including academic affairs, faculty discussions, financial management, technology, public relations, and more.

How are college and university presidents juggling these responsibilities? What are they worried about, and which areas are they prioritizing? Read on to learn what presidents are focused on — and how some forward-thinking leaders are getting ahead of the curve by leveraging the power of data analytics to ensure success for their institutions, down the road.
1. Finding Creative Ways to Improve Success Rates Without Increasing Costs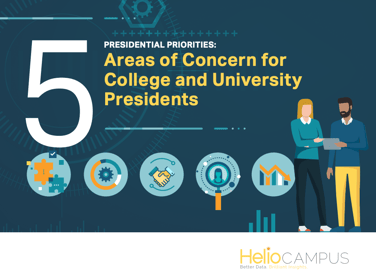 Improving student success rates ranks among the top priorities for college presidents. But, in an atmosphere where "fewer than one-half of public and private nonprofit college and university presidents are confident their business models are sustainable over the next 10 years," it becomes important to employ creative, cost-effective measures to do so.2 New technologies can be a gamechanger in allowing institutions to improve success rates while continuing to curb costs. College presidents "need to develop a curriculum for the future that incorporates new technologies like VR, AI, and advanced robotics," says David Steele-Figueredo, president of Woodbury University in Burbank, California "and we need to use these new technologies to further improve student retention and graduation rates." 3 Meanwhile, other institutions are exploring new revenue streams as a means to offset costs. As per Moody's research, most colleges require a revenue growth of at least three percent.4 To meet that goal, presidents are getting creative about generating revenues from fixed assets, real estate, and campus resources idling during summer months or even Friday mornings.5
Download our eBook to discover the rest of our top 5!
1. https://www.cnbc.com/2017/11/29/how-much-college-tuition-has-increased-from-1988-to-2018.html
2. https://www.acenet.edu/Documents/Evolving-Higher-Education-Business-Models.pdf
3. https://www.educationdive.com/news/4-worries-that-keep-a-college-president-up-at-night/529704/
4. https://www.mckinsey.com/business-functions/transformation/our-insights/transformation-101-how-universities-can-overcome-financial-headwinds-to-focus-on-their-mission
5. https://www.washingtonpost.com/news/grade-point/wp/2017/05/26/forget-the-marketing-gimmicks-its-time-for-colleges-to-cut-costs/?noredirect=on