Newport, Rhode Island. Home of mansions, sailboats, and for three crisp days in November, the Northeast Association for Institutional Research (NEAIR). The HelioCampus booth outside the Grand Ballroom buzzed with energy as friends greeted each other, exchanged news, and compared notes on changes in their offices. For me, NEAIR is home.
The Sunday night plenary "From Aspiration to Practice" featured a lively panel with Kelli Armstrong (formerly toiling among her IR colleagues but now President of nearby Salve Regina), Ann Marie Senior (Thomas Edison State), Henry Zheng (The Ohio State University), and HelioCampus client Richard Reeves from the University of Delaware. They all mentioned data and the importance of data in providing good decision support for the institution. Henry Zhang spoke about the importance of a central place to get data, so that everyone was using the same information and people did not have to waste precious time hunting it down. Richard Reeves, agreed, talking about the trust that is built at an institution when there are common data definitions and data truths which will also lead to efficiencies. Kelli Armstrong, now speaking from her role as President, emphasized the importance of democratizing data and getting it into the hands of the people on each campus who can use it to empower decisions. Any of this sound familiar?
Monday the HelioCampus booth saw a lot of traffic with great questions from sophisticated IR professionals who wanted to understand how our platform could make their institutions more efficient, help wrangle data, and reduce the time it took to answer key strategic questions. This was my first time attending a conference for HelioCampus and I discovered that the best part was being able to connect visitors to the booth to our clients who were in attendance. Don't take our word for it—go find out what our customers think! You won't be disappointed.
I attended a session on data governance at the system level by Rachel Groenhout and her team from the University of Maine system which might be useful for some of our system clients.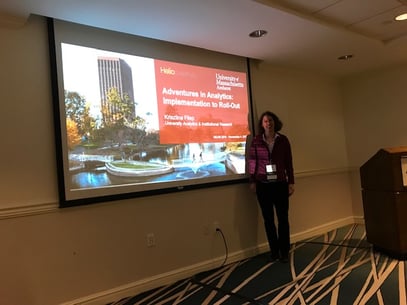 Later I watched as Krisztina Filep (pictured to the right) from our very own University of Massachusetts, Amherst described to a nice crowd how their partnership with HelioCampus has enabled them to roll out some of their key metrics to over 7,000 users (don't try this at home folks!), truly democratizing data and meeting one of the goals of their strategic plan.
Tuesday's plenary—featuring John McGee from St. John's Prep with Shannon Lichtinger from the University of Maryland Baltimore County moderating—discussed four key drivers of change that promise to revolutionize higher education. They are Accessibility, Affordability, Accountability, and Sustainability. To monitor all of these at the institutional level, the system level, and the national level, everyone will need access to accurate, good quality data!
The theme of the conference was Riding the Wave of Change in recognition of the struggle that Institutional Research is experiencing to redefine itself as a profession centrally poised to play an even more important role at each institution. A common theme was data—data governance, data analytics, increasing demands for data—and the role of IR moving their institution into a data-rich future. For some, this is not a comfortable role. Sometimes, an IR office has been focused largely on survey research and assessment so work on data and systems is less familiar. Other IR offices have been anxiously awaiting this wave of data change but have struggled with how to bring the rest of their campus along for the ride. In both cases, HelioCampus can help! We are your partner in data, working in the trenches with you to integrate your data using your own systems and producing valuable and accessible data extracts available for use while also supporting you with analysis services to help take some of the load off. Interested? Give us a call and we would love to come hear how we can help you.