As colleges and universities increasingly turn to data to make key decisions around retention, recruitment, and spending, greater awareness is being paid to data management and governance. In the industry, "there is a real struggle to connect data sets—across institutions—in meaningful ways," says Pennie Turgeon, VP for IT and CIO at the New York Institute of Technology and former VP of IT and CIO for Clark University. Turgeon champions a more comprehensive approach to data management. We sat down with her to learn more about institutional challenges to data management, and best practices for making it all work.
Four Challenges to Effective Institutional Data Management: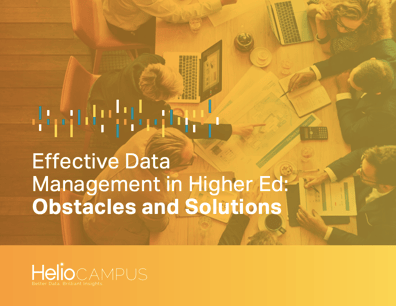 According to Turgeon, there are four primary challenges holding institutions back from leveraging data as effectively as they should be.


Challenge 1: Lag time to gather and "cleanse" data
Challenge 2: Siloed data
Challenge 3: Inconsistent definitions
Challenge 4: Ad hoc data solutions
Download our eBook to learn more about these four challenges, as well as how to leverage data in recruiting and retention.