The HelioCampus team was at EDUCAUSE last week, along with a large contingent of higher education IT. We had a great time meeting with current clients and talking with many of you about your analytics plans. As in years past, data continues to be a hot topic, and was so reflected in the EDUCAUSE 2020 Top 10 IT Issues (listed below:)
Information Security Strategy: Developing a risk-based security strategy that effectively detects, responds to, and prevents security threats and challenges.
Privacy: Safeguarding institutional constituents' privacy rights and maintaining accountability for protecting all types of restricted data.
Sustainable Funding: Developing funding models that can maintain quality and accommodate both new needs and the growing use of IT services in an era of increasing budget constraints.
Digital Integrations: Ensuring system interoperability, scalability, and extensibility, as well as data integrity, security, standards, and governance, across multiple applications and platforms.
Student Retention and Completion: Developing the capabilities and systems to incorporate artificial intelligence into student services to provide personalized, timely support.
Student-Centric Higher Education: Creating a student-services ecosystem to support the entire student life cycle, from prospecting to enrollment, learning, job placement, alumni engagement, and continuing education.
Improved Enrollment: Using technology, data, and analytics to develop an inclusive and financially sustainable enrollment strategy to serve more and new learners by personalizing recruitment, enrollment, and learning experiences.
Higher Education Affordability: Aligning IT organizations' priorities, and resources with institutional priorities and resources to achieve a sustainable future.
Administrative Simplification: Applying user-centered design, process improvement, and system reengineering to reduce redundant or unnecessary efforts and improve end-user experiences.
The Integrative CIO: Repositioning or reinforcing the role of IT leadership as an integral strategic partner of institutional leadership in supporting institutional missions.
While data is not listed outright in each of these issues, it is inherent in all of them. At HelioCampus, we see institutions everyday interested in affordability, improving enrollment, retention and completion, and administrative simplification, to name a few. Having access to all of your data, in a meaningful way, where it can be used to really support decision making, will help your institution tackle the top IT issues.
Another important topic was highlighted in a session given by John O'Brien (below) on the state of digital ethics. He starts by defining the topic as "doing the right thing at the intersection of accepted social values and technology innovation;" and noting that we are not the first century to struggle with the social implications of technology.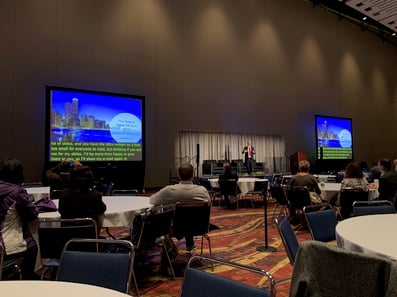 After highlighting some of the challenges and making the point that just because you can do something, it doesn't mean you should, he moves onto Higher Education's role in digital ethics. He references, The Promise and Peril of Predictive Analytics in Higher Education and calls for us to take the lead on considering the challenges of digital ethics. Higher Education is responsible for training the developers, programmers, and architects of tomorrow and now looking to establish digital ethics. You even see colleges addressing these issues in their strategic plans and missions (see Georgia Tech or M.I.T.) Other ways higher education is leading the charge includes creating new programs on Machine Behavior as a discipline, for example. Or by developing new policies and roles to address these issues, such as the role of the Chief Privacy Officer, or establishing committees that are looking at ethics across the curriculum. He closes by recognizing the importance of people as we develop and chase these technologies. If we can develop technologies with people and ethics in mind for our good, perhaps there will cease to be such binary stances about the benefits and drawbacks of technology. Overall it was an enlightening conversation on such an important topic.
We look forward to seeing you all at EDUCUASE 2020 where we can continue the conversation and see all the progress you have made on tackling the top IT issues and in establishing best practices around data ethics.