Our latest eBook explores the topic of analytics programs specific to community colleges. It is an unfortunate truth that discussions of analytics and predictive modeling in higher education often neglect to include community colleges. This may be due, at least in part, to the fact that the majority of community colleges have an open-door admissions policy. Not requiring SAT scores or a specific high school GPA means they often have less robust data sets on incoming students than universities with stricter acceptance requirements.1 But the absence of specific data points does not mean analytics programs are not needed at community colleges, only that those data needs are different.
After all, more than a third of credit-seeking community college students are nontraditional (over 24 years of age), a stat which begs the question: do the high school grades of a 42-year-old professional looking to expand a skillset really tell us much about their likely success as an adult learner? Community colleges have a unique set of challenges and, like their four-year counterparts, data can help
address these challenges, boost student success, and support institutional goals. Follow along to learn six best practices for building and maintaining a community college analytics program.
1. Understand unique student populations and challenges: Research shows us that community college students have unique and often daunting challenges, many of which are not shared by students at four-year institutions. Consider that 40 percent of community college students are enrolled part time, nearly half are struggling financially with no significant familial support, and over 40 percent of first-year community college students are near or below the poverty line. In a 2017 survey, half of 33,000 student respondents revealed they were housing insecure while two thirds were food insecure.2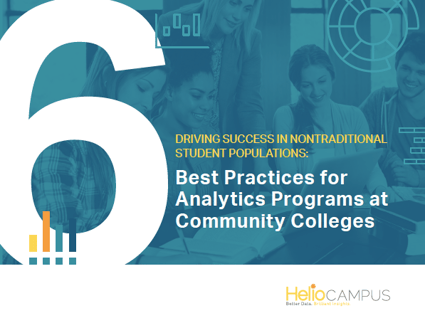 Community college educators and administrators know that the challenges their students face are more than just academic, but it's hard to understand the full impact of extracurricular challenges on student success, let alone how or when to make helpful interventions. But applying data to these challenges can make a significant difference in success rates. For example, some institutions have learned that making relatively minor adjustments in financial aid disbursement can significantly improve retention and graduation rates.3
Download our eBook to discover the rest of our top 6!
1 Rao, Deepa. "The Open Door Policy." National Center for the Study of Adult Learning and Literacy, www.ncsall.net/index.html@id=174.html.
2 "Defining Student Success Data Recommendations for Changing the Conversation." Higher Learning Commission, Lumina Foundation, Dec. 2018, download.hlcommission. org/initiatives/StudentSuccessConversation.pdf.
3 Schneider, Mark, and Kim Clark. "Completion Reforms That Work: How Leading Colleges Are Improving the Attainment of High-Value Degrees." Third Way, Thirdway.org, 25 May 2018, www.thirdway.org/report/completion-reforms-that-work-how-leading-college-are-improving-the-attainment-of-high-value-degrees.