The RTM Higher Education Congress held in Washington DC from August 4-6, brought together CIOs, Academic Affairs, and Enrollment Management professionals from across the country. A rich array of topics were discussed covering everything from leadership challenges, modernization of today's colleges, diversity, strategic budgeting, removing obstacles to graduation, creating student experiences for future-relevant careers, classroom technologies, cloud storage, cyber security, and crisis management.

Despite the diversity of themes, three salient points ran through almost all the sessions:
1) Higher education needs to consider the student's perspective and educate students for the world they will inherit;
2) Effective leadership is crucial to the sustainability of the institution;
3) Data-driven decision making is needed in all business units, from admissions through advancement.
At the keynote session on Monday, a panel of four speakers from American University presented, "Disrupting Organizational Silos in an increasingly Converged World: Can Higher Education Meet the Challenges?" In the session they shared several compelling best practices for breaking down silos on campus, including how a campus must learn to view themselves from the student's perspective. What is the first communication that goes out to a student? Is it personalized? Does it take a collaborative tone? Are all the business units across campus aware of the various communications going out to a student and are the messages coordinated? When students need to get help on campus, do they feel like a ping-pong ball running from department to department? Today's students are used to obtaining personalized information on-demand and just-in-time when they need it. They consume information in multiple formats on multiple devices. Institutions must ensure that there is not a fundamental mismatch between today's students' way of being and the university processes that serve them. To find out more about the RiSE project, click here.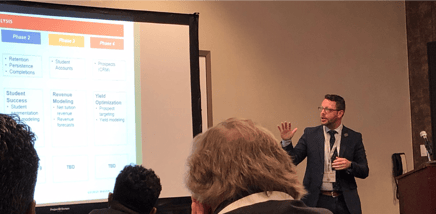 Three sessions were entirely dedicated to analytics in Higher Education. Matthew Boyce from George Mason University (pictured to the right) spoke about using analytics to connect enrollment management and finance. James Roche, from University of Massachusetts, Amherst presented on analytics in admissions. We have the honor of working with both these institutions on their analytics initiatives.

The RTM Opening Keynote was delivered by Dr. Elizabeth Bringsjord, Vice Provost and Vice Chancellor for Academic Affairs of the SUNY System. In her presentation she reinforced the idea that efficient investments in student success require a comprehensive and modern approach to data collection and analysis. In support of this claim, she quotes CEO of HelioCampus, Darren Catalano, from his Jan 11, 2018 Ed Surge article, Is Your Institution Really Ready for Predictive Analytics?, "An institution must build its analytics muscle to reach the stage where predictive analytics can be powerful and transformative." If you are ever interested in how HelioCampus can help your institution with your analytics investment, don't hesitate to reach out to info@heliocampus.com.