Last week the HelioCampus team visited sunny Orlando for the AIR Forum. This is an important event that brings together higher education professionals working in institutional research, assessment, planning, and related postsecondary education fields. We spent two jam packed days talking to attendees about their analytics efforts, supporting our client partner presentations and getting feedback on our IPEDS Explorer tool.
This year at the AIR Forum, some of the common themes involved data-informed decision making, collaborations between IR/IT, and the always important analysis of student success outcomes.
If you didn't have the opportunity to attend the event, or missed Ithaca College and University of Maryland, Baltimore's sessions, you can review a brief recap below.
Ithaca College Session: Transforming IR's Operations In Response To The Analytics Evolution
Presenters: Dr. Yuko Mulugetta, Chief Analytics Office, Elijah Earl, Senior Research Analyst and Jack Neill, Vice President, Client Services, HelioCampus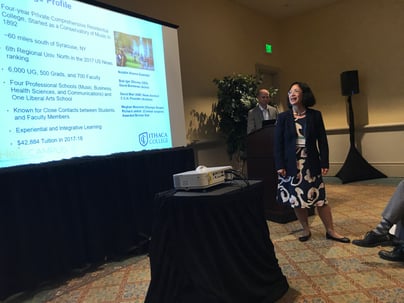 Dr. Yuko Mulugetta opened with some background on Ithaca College, including the current challenges they are facing: a tuition-driven budget, declining high school graduates in the northeast, the need for a more diverse student body, and the desire to improve student success.
Ithaca used the Educause Core Data Service to examine their analytics maturity level. They learned that their analytics maturity dimension scores were significantly lower than their peers, leading them to make a change at the college. They began a search for a new position, Chief Analytics Officer (CAO), which would ultimately be filled by Dr. Mulugetta. Once in place, Dr. Mulugetta began building the "House of AIR (Analytics and Institutional Research.) This idea is reviewed in detail in another of our blogs, but ultimately Mulugetta wanted to enable her team to progress from the tactical reporting they were used to doing, toward more high level and strategic analysis. In order to do this, Ithaca embarked on several data related initiatives, including the partnership with HelioCampus. Together we are working on integrating data from across the college, starting with core admissions, enrollment and student success data, adding Sakai and OrgSync and, ultimately, advancement, HR and finance. Along with the HelioCampus platform, Elijah also discussed the importance of their data governance initiatives, which are foundational to any analytics initiative. Ultimately, Ithaca will be able to use their data to do additional retention modeling and have the ability to answer strategic questions like, which students are likely to leave Ithaca College and why? The ability to use analytics to explain factors that impact retention, and then predict students who are likely to leave allows them to share insights with campus constituents and collaborate with them to support student success, a hugely important goal and one of the major challenges Ithaca is working to solve.
Our other partner session was delivered by University of Maryland, Baltimore: Creating an Affordability Model for Professional Education
Presenter: Greg Spengler, AVP for Institutional Research and Accountability, University of Maryland, Baltimore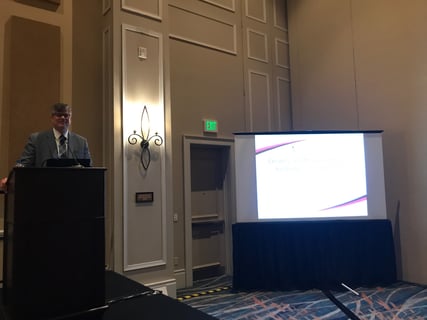 University of Maryland, Baltimore wanted to ensure that their academic programs and offerings remain affordable and accessible to Maryland's residents of all races, ethnicities and income levels. With an updated strategic plan to reflect these goals, they partnered with HelioCampus to embark on this affordability study. We sought to answer the question: Can students across all races, ethnicities, and income levels expect to repay accumulated costs of professional education with a portion of their discretionary income within a reasonable period of time once employed in their field?
By looking at a number of variables including academic program, occupational wage comparison, salary benchmark percentile, percent of discretionary income used for repayment, years of repayment and actual or custom debt input, we learned the following:
Even with high levels of graduating debt, UMB programs are affordable for the majority.
Debt levels at graduation are increasing, but at a pace slower than the cost of education.
Almost one third of graduates repay their debt entirely after just 7 years.
Graduates across different race/ethnicity and parental education attainment categories accrued debt differently.
Geography matters for debt accrual, earnings, debt repayment, and thus affordability.
Underserved areas of the state are often the most unaffordable.
These results leave the University of Maryland, Baltimore expanding a discussion as to what they can do to ensure continued affordability. This study is only a first step, and UMB is already pondering next steps, which may include adding more students to the repayment data set, examining repayment rates beyond the seven-year window used for this analysis, obtaining actual wage data, and more. From a policy standpoint, discussions are underway to advocate at the state level to support efforts to ensure that those regions in Maryland that are both underserved and less affordable can maintain access to the legal and health care services that UMB graduates provide.
If you are interested in more information on the study, you can review a summary in the UMB legislative budget testimony here.