Last week I had the opportunity to head out to Denver, Colorado with the HelioCampus team for the AIR Forum. This event is our chance to learn from institutional research practitioners on how they are using analytics at their institutions. It was great to learn about all the different ways institutions are tackling data visualization, reporting, and more; and for us to share how we are working with our clients on combining, analyzing and visualizing data from across the student lifecycle.
I was really impressed by Dr. Tricia Wang, keynote speaker and global tech ethnographer (if you are also unfamiliar with this term, it basically means she watches how people use technology.)
One of the themes from her keynote that really resonated with me was the importance of the human element when analyzing data (you can also watch her excellent TED Talk on this same topic.) She gave an example from when she worked at NASA. There was an engineer who actually predicted the Challenger explosion but, because he couldn't explain it well enough with data, they discounted his findings. She went on to note that data can't be communicated as a technical endeavor; it needs to be communicated so everyone can understand it. And that a model is not a stand in for human knowledge.
We definitely believe this at HelioCampus, which is why we work closely with your team from implementation throughout the duration of the relationship. Data is no substitute for the knowledge that you have from years of reviewing data. We always like to include the human element in combination with what the data tells us. It's also one of the reasons we include services along with our institutional analytics platform, to ensure you are getting the most from the data and can also take action on it.
One of our wonderful clients, Krisztina Filep of the University of Massachusetts Amherst (UMass Amherst), also presented a session: Implementation to Roll-Out: Chronicling the Year of an Analytics Initiative. I met Krisztina at AIR last year and it was so impressive to see how far she and the team have come in a year. You can check out her presentation here.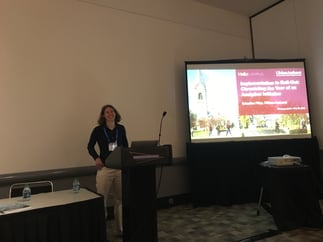 She described in detail the history of analytics at UMass Amherst and how they came to partner with HelioCampus. She also provided great tips throughout the presentation for other institutions going through an institutional analytics implementation. Tips like…
Make sure your internal people are aligned around the project and timing
Have dedicated working sessions with key stakeholders
Set short term goals and deliverables
Relationship building is important!
Discussions on data governance must start early and more.
In the end, she shared some of the dashboards they rolled out at launch (one featured below on student movement), some lessons learned and what's next for UMass Amherst.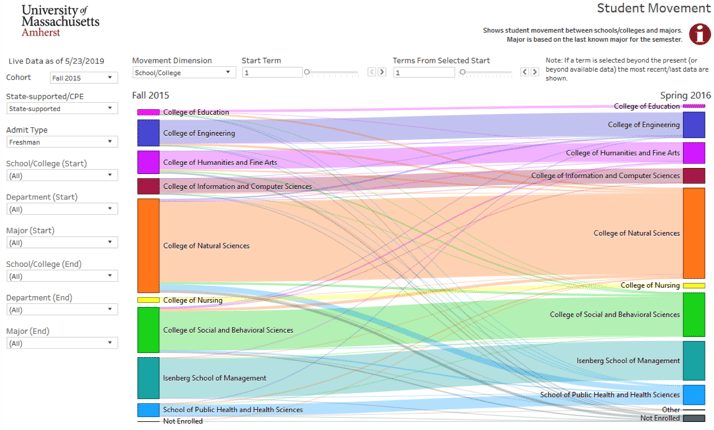 We are so lucky to have clients with such great vision and who are really invested in the success of the project, like Krisztina.
If you have any questions on how HelioCampus can work with your institution on an analytics platform, please don't hesitate to reach out. I am already looking forward to AIR next year and seeing what's new in the IR community.