As I attended the 2019 EACUBO Annual Meeting in Baltimore Maryland, I was surprised not only by the quality of the content but also by the importance of such events. I believe that large gatherings, such as this, of like-minded people is key to disseminating ideas and highlighting where the industry is heading. I was fortunate enough to attend several sessions on topics like Cloud Migration, Alignment of Technology and Strategic Plans, Data Security, Program Margin and Program Prioritization, to name a few.
The State of Higher Education session I attended highlighted a theme that I observed throughout the event; institutions are now facing much more complex challenges than they have in years past. The session indicated that a way to address these challenges is by improving institutional analytics capabilities and arriving at a point where data, and data analysis, are the real drivers of decisions.
As I look at the overall landscape, it becomes clear to me that having the right strategy to attract and retain students, as well as being able to understand how and where to deploy resources, or how to run a more financially stable institution, is what must be done in order to remain competitive.
The most efficient way to do this is by having access to the right data, and also being able to turn that data into information that is actionable. Most institutions today have vast amounts of data but struggle to transform it into something useful. Being able to accurately answer the most pressing questions at an institution would provide an edge and allow them to stay competitive.
I had the opportunity to lead a session where I discussed HelioCampus and conveyed how our finance product can help clients achieve efficiencies from a financial perspective, not only because of improved access to financial data, but also because of the connection to the vast amount of student information.
I enjoyed my time at EACUBO and look forward to attending future events.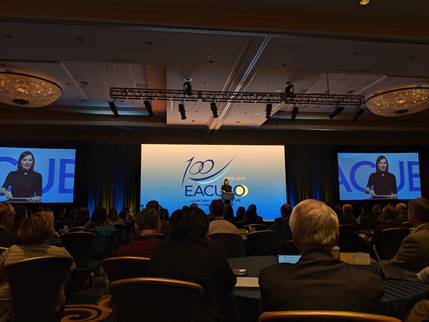 Pictured: Geena Davis, Actor and Founder, Geena Davis Institute on Gender in Media