Higher education is facing many challenges. With HEERF running out, the financial strains brought on by a global pandemic require institutions to rethink how they currently handle their operating costs and revenue. Meanwhile the looming enrollment cliff promises a decline in tuition for several institutions, severely impacting what is for many a primary source of revenue. On top of that, students as a whole are demanding a clearer return on investment for their degrees - and accreditors are hot on their heels, evolving their standards to help meet this shift. Now more than ever, financial sustainability is a weight on the minds of many higher ed leaders as they work to secure their institution's future.
Because of this, there's no doubt that colleges and universities need a new approach to financial sustainability. Focusing on enrollment, retention and tuition revenue alone is no longer sufficient. Institutions must address their over-burdened cost structures and make critical choices to more closely match operating costs to operating revenues and shrink structural deficits. The HelioCampus Blueprint for Financial Sustainability offers institutions a model for building a strong fiscal foundation and making administrative and academic operations most efficient and effective. Check it out below!
The blueprint for financial sustainability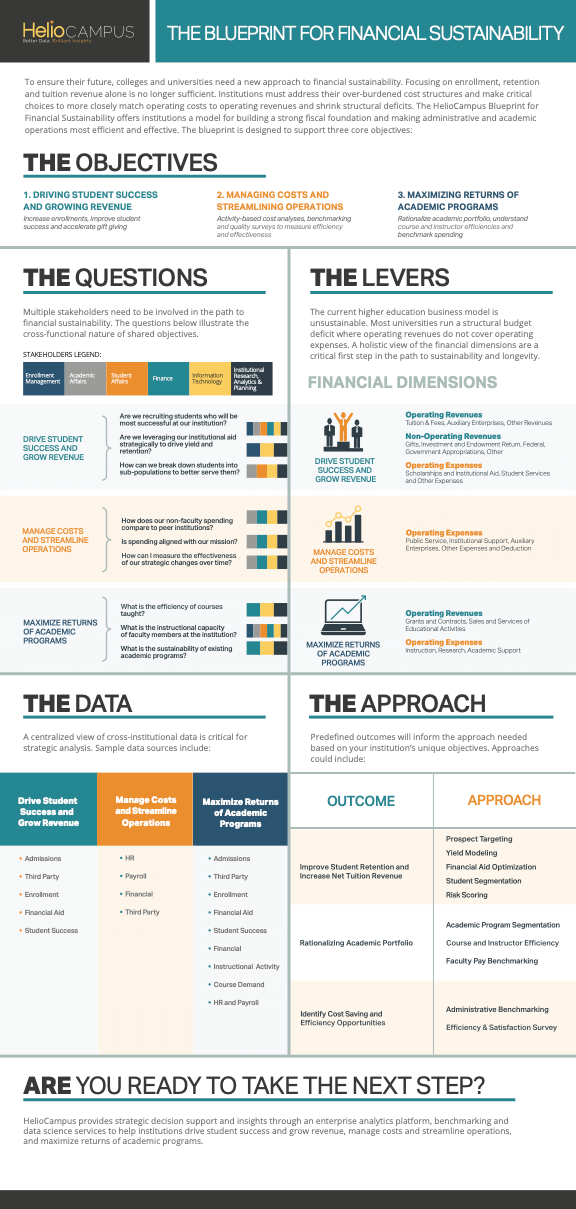 Are you ready to take the next step?
Whether your institution is navigating the fallout of the last five years or looking for a way to thrive in the face of challenges to come, one thing is for certain: it's time for a change. Facing a tuition and enrollment shift, many institutions have (or will soon) need to come up with a new strategy is needed to overcome the impact. If your institution wants to not just survive but thrive in a new era of higher education, you'll need to start:
Exploring other sources of revenue besides tuition
Focusing your time and resources on bolstering student success
Taking a step back and rethinking your strategy for cost management
Streamlining your operations to ensure efficiency and effectiveness
Taking a critical look at your academic portfolio to maximum return on investment for academic programs
Every institutions is at a different place on their journey, and securing financial sustainability is easier said than done. If you're looking for a partner to help you achieve your strategic goals, HelioCampus can help. We provide strategic decision support and insights through an enterprise analytics platform, an all-in-one assessment platform, benchmarking, and data science services to help institutions drive student success and grow revenue, manage costs and streamline operations, and maximize returns of academic programs. Reach out and schedule a demo today to learn more!