Our latest eBook explores the topic of Institutional Planning for higher education. A lot is riding on universities' performance metrics: enrollment and recruitment numbers, student outcomes and livelihoods, and funding. In fact, more than 30 state governments in the U.S. have policies or formulas that allocate funds to public institutions based on student performance factors 1. Universities with the ability to improve performance with comprehensive and data-driven institutional planning stand to fare better than their peers.
Successful and actionable institutional planning is a daunting task. Change is hard. We know this to be true on an individual level, and it is even more so on an institutional level. Organizational inertia accounts for much of the difficulty, along with the ever-present problem of not knowing exactly what to change, or how. Data science and analytics, however, can help solve the latter challenge and, with appropriate administrative buy-in, may even overcome institutional inertia. This is particularly true, says Dr. Craig Rudick, executive director of institutional research (IR) and lead data scientist at the University of Kentucky (UK), when relationships are leveraged along with the data, and when a culture of data is built across the organization 2.
Download our eBook to dig further into topics such as: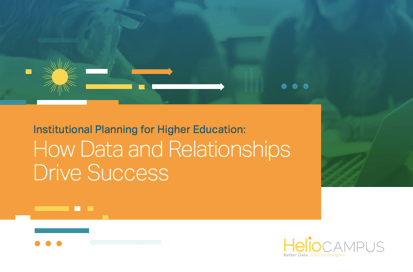 Institutional Planning, Defined
Institutional Planning 101: Uncovering Actionable Data
Institutional Planning through a Data-Driven Culture
Data-Driven Planning and Revenue
We hope you enjoy it and come away with next steps and action items for your institutions!