As part of its annual Tom Tom Fest, Charlottesville hosted its Applied Machine Learning Conference earlier this month. Our HelioCampus data scientists and engineers joined other local data science practitioners for a day of robust discussion, practical guides to new techniques, and machine learning concepts applied in innovative ways to solve real-world problems.
The day kicked off with an inspiring keynote by Vida Williams, who challenged us attendees to remember the humans behind the data we use every day. This set the tone for the rest of the conference as we meandered from session to session.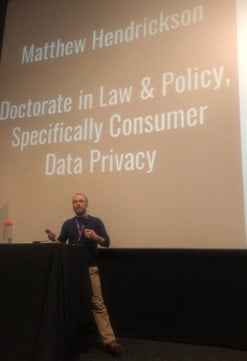 We learned new implementations of Bayesian statistical methods from Austin Rochford at Monetate and Taylor Brown from the University of Virginia. We watched Aman Shrivastava show us how software can learn to identify biopsy samples with different abnormalities, and Tianglu Wang devise methods to limit gender bias in image recognition technology (both from UVA).
Our own team had a chance to share their knowledge: Renée Teate, one of our data scientists, held a live taping of her popular podcast "Becoming a Data Scientist", and Matthew Hendrickson presented on the oft-overlooked but vital topic of project licensing. Andrew Therriault from Facebook rounded out the day with the second keynote, as he walked us through a guide for how to improve our efforts to use "data for good" – something we're always striving for in higher education.
From events like these, our data scientists stay up-to-date on the latest technological trends and reaffirm our commitment to using data responsibly. If your institution wants to learn how to apply machine learning to come up with actionable insights to help your students, reach out to us or request a demo!