As a result of the rapid response to COVID-19 this spring, many institutions were forced to become fully virtual almost overnight. Without an efficient means of extracting, organizing and presenting LMS data, administrators were left with complex and time-consuming incremental database queries and manual manipulation of data.

In partnership with our clients, we developed the LMS Explorer Kit to allow institutions to extract data from their Learning Management System (LMS), including instructor and student course activity, and create a series of data visualizations to help inform action and decision-making around deployment, training, course development and usage. The LMS Explorer Kit includes the code to extract data from Canvas and Blackboard Learn. A sample dashboards is below: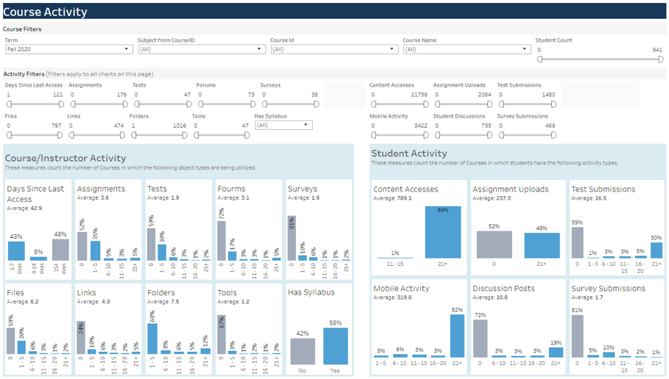 The best part? It is offered to you at no cost. Want to learn more? In partnership with Tableau, we are offering a webinar to learn more about why we created the LMS Explorer Kit, what you can do with it, and more. Details are below:
Date: August 20th
Time: 10:00 AM Eastern and 2:00 PM Eastern
REGISTER FOR EITHER SESSION HERE
We hope to see you online!