Last week I attended the Achieving the Dream (ATD) Data & Analytics Summit in College Park, Maryland. Achieving the Dream is an organization dedicated to the success of community college students and closing achievement gaps, especially for low income students and students of color. Our client, Harford Community College (HCC) is one of 277 colleges currently partnering with ATD to build institutional capacity and develop transformative student success initiatives. HelioCampus' partnership with HCC has allowed us to not only support the immediate analysis needs of the institution but also provide key performance metrics for ATD.
A key takeaway from the conference is "leaning in" to data analytics. ATD's President and CEO, Dr. Karen Stout, compared the leaning in to a long bike ride uphill. By leaning in towards the handlebars, cyclists deliver more power directly to the pedals to continue the climb. We need to lean in to the challenges of analytics and continue the climb towards student success.
Through several informative sessions, ATD member institutions leaned into their analytics and highlighted important factors of student success such as an equity focused research agenda and early momentum metrics. Having an equity focused research agenda allows institutions to better understand equity gaps and identify prospective students that are least likely to enroll and student groups least likely to complete college English and math during their first year. Further, a brief published by the Community College Research Center revealed that early momentum metrics, such as completing college-level math within the first year, not only reflect obstacles to community college student persistence and completion but are also able to predict long-term success.
We need to lean in to challenges facing institutions, embrace data analytics, and continue the climb towards student success. At HelioCampus, we are passionate about the climb towards student success and our vast capabilities allow us to lean in to data analytics to provide better insight for our clients.
You can download our latest eBook: Driving Success in Nontraditional Student Populations: 6 Best Practices for Analytics Programs at Community Colleges here.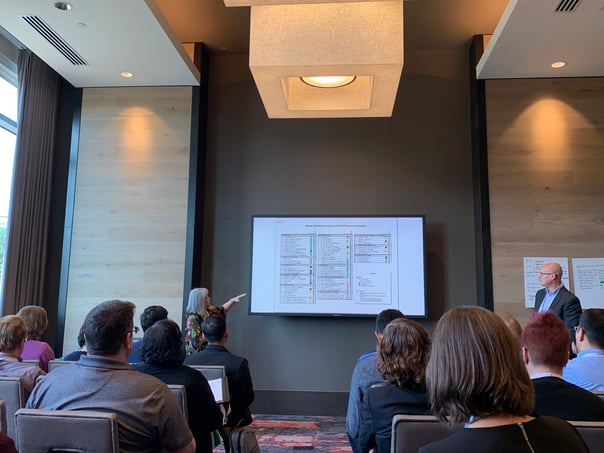 (Image from a session from Austin Community College on Benchmarking.)