Recently, we've been discussing the major challenges of expanding the definition of institutional effectiveness (from a passive noun to an active verb) and what initiatives institutions can undertake to make the transition.
The higher ed landscape is always changing, and there are some promising institutional effectiveness trends that campus leadership should keep their eye on in the coming year that show this evolution isn't far off. The trends that are at the heart of the next era of institutional effectiveness are sparking now. And keeping your finger on the pulse of what's to come is crucial to ensure your institution is fueled by that fire, not burned by it.
5 institutional effectiveness trends for 2023 and beyond
A common thread weaving through the IE evolution is a renewed focus on relevant, customizable lifelong learning. The concept of lifelong learning has been around for years, but it's always struggled to gain traction. Now, advances in technology, shifts in accreditation requirements, student demand, and employer-institution partnerships are accelerating the path toward more tangible lifelong learning programs in higher education.
So where are these institutional effectiveness trends taking us?


While these nascent institutional effectiveness trends may still seem a ways off, building programs that facilitate and promote lifelong learning can start today. Many institutions are taking their first steps by evaluating and implementing unbundled degrees, micro-credentials, employer institution partnerships, and experiential learning… Some are even beginning to seek technology providers that implement standards such as Comprehensive Learner Record (CLR) to offer a digital, verifiable transcript for lifelong learning.

No matter what process, approach, or technology you choose, there are 3 key requirements for long-term success:
The ability to quantify and measure student achievements internally
A mechanism for students to track their progress along the way
The ability to share and demonstrate their skills and achievements during and after their time within an institution.
Investing in a comprehensive approach to institutional effectiveness will accelerate your path to the unified visibility and analytics needed for a holistic view of student success—today and into the future.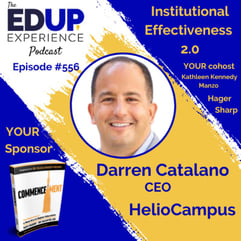 Want to learn more about IE 2.0 and the future of higher ed?
Tune in to The EdUp Experience Podcast, featuring Darren Catalano (CEO of HelioCampus) — available now!