With public gatherings across the country being cancelled or postponed due to the coronavirus pandemic, we were extremely fortunate to be able to attend the Indiana Association for Institutional Research (INAIR) annual conference on the campus of IUPUI in Indianapolis, Indiana. It was a great chance to connect with IR professionals in the Hoosier state and discuss the many ways their institutions are using data to improve the student experience.
A major theme that emerged at the conference was moving from data to action. A common refrain in both presentations and hallway conversations was the idea that while institutions have tremendous data resources available, they may not yet be using them to their full advantage to affect meaningful changes in student outcomes and institutional financial sustainability. A particularly powerful take on this theme was given by the keynote speaker, Dr. Courtney Brown of the Lumina Foundation, who spoke about the imperative to increase higher education attainment and close equity gaps in both the nation and specifically in Indiana. Her message was a call to action for institutional researchers, who know the data so well, to be catalysts for change in adopting data-informed decision making practices that will improve both their institutions and the lives of their students.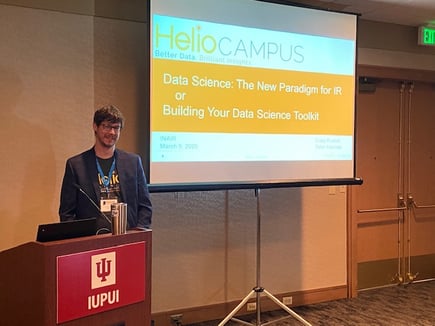 One way in which the HelioCampus team contributed to this discussion was through my presentation entitled "Data Science: The New Paradigm for IR". A major theme of this presentation was that while tools such as predictive modeling and machine learning are powerful, possibly even essential, elements of a modern data analytics program, in order to be truly effective they must be utilized within a broader data-informed decision making framework that includes wholistic data analyses, a culture of data literacy, and strong stakeholder engagement. At HelioCampus, we have designed our entire product and data science service offerings around the idea that data science is a process whose true goal is to use data resources to affect meaningful change for students and institutions.
Thanks again to the wonderful folks at INAIR for organizing a great conference. We hope that all remain safe and well during the difficult time ahead, and look forward to being able to meet with you soon.